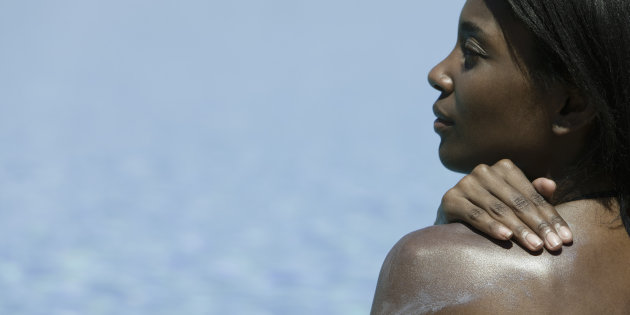 16 Jan

Dr. Mia for Huffington Post on Summer Skincare
The Best Ways To Take Care Of Your Skin This Summer
If I could offer you only one tip for the future, sunscreen would be it.
PHOTOALTO/SANDRO DI CARLO DARSA
Dr. Reza Mia, a general practitioner with a specialisation in aesthetic medicine, is Johannesburg's go-to man for skincare treatment. His celebrity clients include Shashi Naidoo, Gina Myers, Anele Mdoda, Janez Vermeiren and DJ Warras. So who better to give us expert advice on how best to take care of your skin during the harsh summer months? Whether you are lounging on the beach or poolside, or spending the day out and about, your skin is susceptible to sun damage. Mia gave The Huffington Post South Africa his best tips on protecting your skin from the sun and keeping it looking and feeling great.
Keep an eye on it
"It is important for people to look at their skin as much as they can," says Mia. "Being in the sun can be addictive – the sun can trigger endorphin release and also sometimes acts as an appetite suppressant – so people can sometimes overdo it." He adds that checking your skin regularly and listening to it is an important way to make sure there is no overexposure. If your skin feels tight and dehydrated, be sure to get out of the sun and make sure you drink more water.
Take supplements
According to Mia, there are a range of products that can be used to protect the skin from within. "I often prescribe Crystal Tomato capsules to patients. It acts to protect the nuclei of the cells in the skin and helps the skin to look even toned and healthy." The treatment contains "colourless carotenoid extracts from a unique breed of non-genetically modified white tomatoes" that offer "skin brightening benefits" and acts as a natural sunscreen.
Treat pigmentation marks properly
"Pigmentation marks happen when there is an increase in the melanin-stimulating hormone in your skin due to sun exposure and if you do not treat and take care of them properly, they tend to increase exponentially," says Mia.
The best way to treat pigmentation marks is through the use of a mix of products used in a process called redermalisation, which uses an injectable product containing hyaluronic acid and sodium succinate. "You inject the product straight into the pigmentation marks to lighten them over time. The injections are used alternately with chemical peels, vitamin C face masks and vitamin drips."
According to Mia, it is critical that these procedures are performed by a doctor who knows how to deal with pigmentation marks. "It is a process that can take some time and it is essential that the doctor knows what they are doing. These are medical procedures that need to be done properly to prevent damage to the skin. Every patient needs something different and both the doctor and patient need to understand the intricacies of treating conditions like these," he says.
Old faithfuls – sunscreen and a hat
"You can't go wrong with the age-old methods of sun protection – wear a sun hat whenever you are outside and always make sure to wear a good sunscreen on your face". Mia recommends wearing sunscreen every day, even if you are not going to be in direct sunlight, to ensure your face is always protected from harsh UV A and B rays that you will be exposed to while driving or walking, or even through the windows at your office. Get into the routine of including a sunscreen (or moisturiser that contains sunscreen) in your daily skincare regimen. Make sure to protect your children's skin in the same way, with daily sunscreen regardless of their sun exposure. "Take extra care of your children's skin when they are outside and make sure to protect your children more than you would yourself," he says.