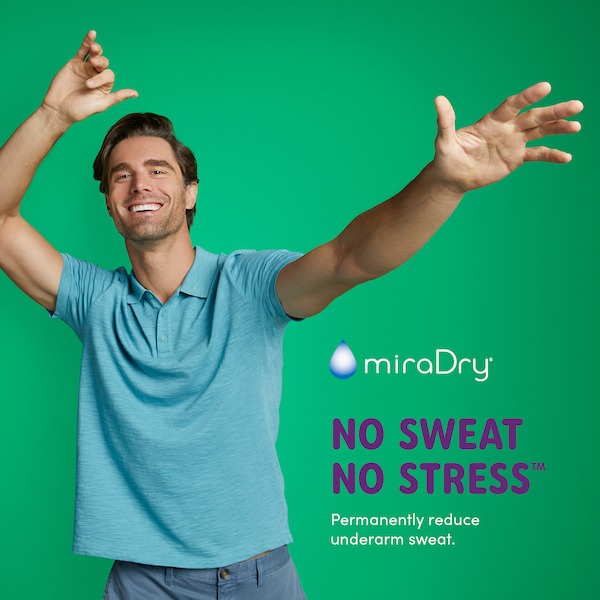 26 Jun

miraDry® now available in South Africa – A Non-Invasive Treatment to Reduce Underarm Sweat, Odour and Hair

miraDry® is the only FDA-cleared the first and only FDA-cleared solution to permanently reduce underarm sweat, odour and hair.

Excessive sweating can be a very bothersome condition for many people, with symptoms such as sweat that soaks through clothing and complaints about persistent odour.

Excessive sweating can disrupt normal daily activities and may also cause social anxiety or withdrawal and embarrassment, impacting overall quality of life.The solution to relief is miraDry®
The miraDry® treatment permanently reduces underarm sweat, odour, and hair of all colours in as little as one hour – with immediate results. It is safe to use on all skin types.
How it Works
miraDry® utilises proprietary thermal technology to target the area where underarm sweat glands, odour glands and hair follicles reside, and safely elminates them.
Local anaesthesia is administered to the underarms prior to the treatment for patient comfort.
The miraDry® treatment is non-surgical. Treatment is customised to each underarm with the miraDry® handpiece placed directly to skin, lining up with the temporary treatment template applied to the underarm.
Results
A published clinical study confirms an average of 82% sweat reduction in most patients.
Results can be seen in as little as one treatment and sweat glands don't regenerate after treatment.
Most patients describe the procedure as painless and return to regular activities (returning to work) immediately after treatment.


Side Effects
The miraDry® treatment has a strong safety record. Some localised soreness, swelling, or numbness will occur, which typically clears within a few weeks.
Treatment Cost
The miraDry® treatment is customised to each patient, so the best way to determine a treatment plan and price is to consult a physician.
Pricing can vary depending on the specific treatment protocol and will be discussed during the consultation.