About This Treatment
What is Cooltech® Fat Freeze?
 Cooltech targets stubborn fat pockets or bulky areas that are hard to reduce even with rigid exercise.
It rapidly and non-invasively causes fat cell death, sculpting the body you desire.
Is there pain involved in the procedure?
It is a pain-free process called Adipolysis-assisted Fat Freezing where the fat cells are destroyed and die off permanently. It is also known as Cryo-lipolysis, a controlled cooling method used to target fat cells in localised fat pockets or bulky fat deposits in order to reshape body contours and reduce centimetres.
What is the difference between Cooltech® Fat Freeze and Liposuction?
With Cooltech® Fat Freeze the fat cells in the targeted area/s die off and are permanently removed through the lymphatic system. The procedure requires no anaesthetic, is safe, pain-free, non-invasive, non-surgical, requires no downtime and leaves no scarring. It does not have to be performed by a medical practitioner, but can be executed by trained Medical Aesthetic Therapists/Clinicians.
With traditional liposuction, the procedure requires either general or local anaesthetic or conscious sedation. It is invasive and basically a surgical procedure, because it can only be performed by a medical practitioner. The probes that are inserted make holes and leave permanent scars on the body. The downside to this procedure is the fact that the fat cells are only temporarily removed and people often talk of "the fat having gone elsewhere or having come back." The operation is also quite risky; if too much fluid is extracted, results can be fatal.
HOW DOES A COOLTECH® PROCEDURE WORK?
Do you want to get rid of the stubborn fat? Do you think the only solution is to work out in the gym or a liposuction? If you still think this way it's just because you don't know the CoolTech® procedure yet.
CoolTech® consists in freezing the fat tissue, while respecting the collagen and skin elasticity, and afterwards, it removes the fat cells from the body in a natural and progressive way through the lymphatic system. It is a non-invasive procedure, without the need to use needles or scalpel and pain-free.
During a CoolTech® treatment, around 60 minutes, you will be lying down and being able to read a book, work on your ipad or talk on the phone with no rush.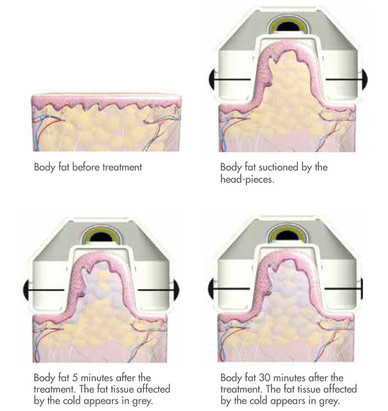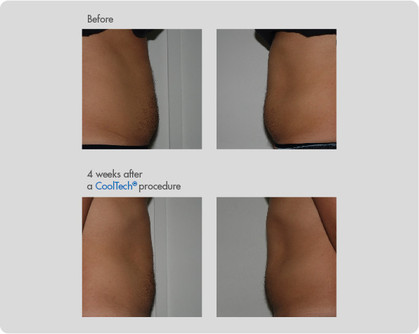 What happens at the actual treatment session?
Once the treatment area has been identified and marked and you've been made comfortable on the bed, the Clinician will apply a cooling pad or cloth membrane covered with cooling gel over the area, to protect the skin.
The Cooltech® Fat Freeze handle is positioned on the treatment area, on top of the gel cooling pad. The handle, also known as a paddle, will slowly increase in suction, manoeuvring the fat pocket up into the handle. Once the suctioning is complete the handle will stay in place by itself or may be supported by a towel or pillow, depending on the treatment area, to make the experience as comfortable as possible for you.
The Clinician will monitor the readings on the Cooltech® Fat Freeze screen for temperature, pressure and duration. The temperature will take a few minutes to decrease to -8° Celsius, at which stage the fat starts to freeze.
You can relax, fall asleep, read a book or work on your laptop.
Post Treatment
Once the treatment has been completed, the handle will be removed. The cooling gel will be wiped off. We then engage with our physiotherapists for a deep oscillation session to restore circulation.
The frozen fat cells would have died and your body will remove them in the same way it rids itself of any waste.
After Care at home.
On the day of the treatment, we suggest you do not take too hot a bath or shower. You may apply Arnica oil to the treated area if there is some bruising or numbness .
Helpful tips to maintain the results on your fat frozen areas
As with any procedures of this kind, it is advisable to lead a healthy lifestyle, which should include the following:
Drink 6 – 8 glasses of water a day to keep your hydration levels up.
A lifestyle eating plan of protein, vegetables and fruit with low carbohydrates, sugar & alcohol is advisable.
Low impact exercise like swimming, cycling, walking, yoga and pilates are good to maintain your shape.
Which areas can be treated?
Abdomen * Love handles * Muffin tops * Arms * Inner & Outer Thighs * Back Rolls or Bra Folds * Inner & Outer Knees * Buttocks
How many sessions will I need?
Up to 3 Treatments per area/s, ± 60 days apart.
How long does a treatment last?
A treatment lasts ±60 minutes.
Is there any downtime or recovery process?
No, clients can immediately resume their activities. There is no down-time as the procedure is non-surgical.
Everybody's tissue structure and bodies are different, so whilst some may be a little red, others may have minimal bruising, slight swelling or numbness of the treated area. All of these symptoms will dissipate soon.
Can more than one area be treatment in a single session?
2 Separate areas can be treated back to back, if your time allows. It means it will take just over 2 hours to perform the treatments on 2 areas, e.g. abdomen & love handles or abdomen & arms etc. Only 2 areas of the body can be treated on one day.
Is the procedure uncomfortable or painful?
The first 5 minutes may be slightly uncomfortable as the fat is being suctioned, but once the area has frozen; there is no sensation of pain or discomfort.
When will results be visible?
After only one session results of approximately 20% reduction in the treated area should be visible after 2 weeks.
More noticeable results are achieved after 12 weeks, i.e. after the 2nd session.
Optimal results are achieved once the 3rd session and full programme has been completed.
What is Cooltech® Fat Freeze a contra-indication for?
Under-active Thyroid conditions such as Hashimoto's Thyroiditis and also Reynaud's Disease.
People with either of these conditions are not able to excrete fat cells the way anyone with a normal metabolism does.*
What is the cost of the programme?
Please contact our practice on 011 483 0881 or info@antiagingart.co.za to arrange a consult and inquire prices.
So why should you choose Cooltech® Fat Freeze?
It is non-invasive, non-surgical, pain-free and has no down-time.
There is no scarring or possibility of damaging organs or worse.
It is safe post-pregnancy or post-operations, within a specified time period.
It is for both men and women above 18 years of age.
It is a quick and effective fat pocket & centimetre reduction method, with results visible within two weeks from the first session.